You're bound to have many questions, so here's a few that are frequently asked: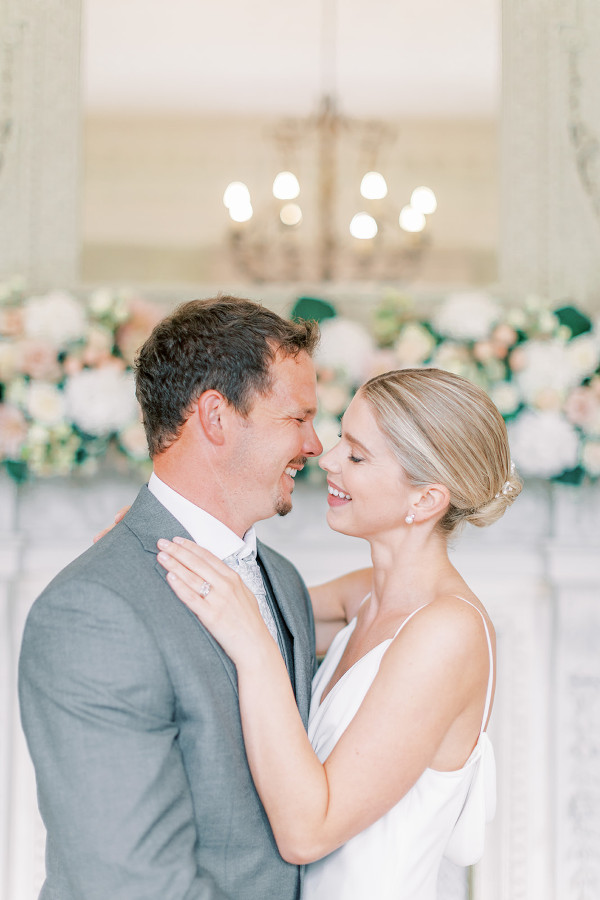 I'm not sure we need a wedding planner, what can you do for us?
My experience and expertise will reduce your stress and make the planning process an enjoyable experience, and your wedding unforgettable. On average it takes 250 hours to plan a wedding and trying to find that additional time if you already have busy lives can be a challenge. By handing the reins over to me, I'll handle all the research, admin and logistics which means you can concentrate on the things you love and enjoy being engaged. On the day you can relax and enjoy knowing your wedding is in a safe and trusted pair of hands.
Our venue offers a complimentary wedding/venue co-ordinator so why would we need a wedding planner as well?
This is something that regularly causes confusion for couples, a wedding co-ordinator at a venue is very different from an independent wedding planner. While I work very closely with wedding/venue co-ordinators all the time, the roles are not the same. I have written a blog post about the differences between the two, but to summarise:
Wedding/Venue Co-ordinators work solely for the venue they are employed by and their main role is to act as the liaison between the couple getting married and the on-site operations team. They will work closely with you on all the areas of your wedding that relate specifically to the venue, for example they will take you on venue show rounds, conduct menu tastings and make sure that payments to the venue are made. Once you've booked the venue, there will be some contact just before the wedding (usually 4 – 6 weeks) to confirm logistics and numbers. On the wedding day itself, they are responsible for providing you with the service you have contracted for, also they won't be there for the duration of your wedding, they'll likely be there at the beginning then hand over to a member of the operations team mid-way through the day.
As an independent, professional Wedding Planner, I work for you, and I'm there solely to make sure you have a flawless wedding day from start to finish. I'll know every minute detail of your wedding to the same level as you (and sometimes more) and I am the best equipped to manage the day so it runs perfectly. I'm here to support you through the process, be your advocate and work in harmony with a Wedding/Venue Co-ordinator.
Do you offer discounts?
No, I do not offer discounts. The investment for my services for your wedding will be outlined in the proposal you will receive after our consultation call. If your budget doesn't stretch to my services, we can discuss how they can be tailored to fit your budget.
How would we work together with you?
When it comes to planning your wedding, my service is tailored around you. From the very start we'll work together as a team, I'm not here to take over and you'll always feel completely in control of the decisions. I will guide you through the process, sharing my knowledge and know-how to ensure you have an incredible planning experience and wedding day.
What style of weddings do you plan?
I don't specialise in a particular wedding style, I listen and understand how you want your celebration to be and what you want it to look like. From beautiful hotels to historic manor houses and marquees in open spaces, the one thing my clients all have in common is a wedding truly personal to them, that gives their guests a truly memorable experience.
We've heard that some wedding planners take commission, do you?
Commission is offered by some suppliers within the industry, and for wedding planners it means that they will receive a financial incentive in exchange for recommending the supplier to their clients.
I don't accept commission from the suppliers I work with. If commission is offered, I will always disclose this to you and ask that it be passed on to you directly in the form of a discount.
Can you save us money on our wedding?
Weddings are an investment and a huge undertaking, regardless of how big they are. Having a wedding planner on board is an additional cost to consider, however having the reassurance of an expert on board to manage the process and the day itself is worth it in the long run.
I don't promise that I will save you money as I believe that asking for discounts devalues suppliers and their work. I will however, make sure that quotes received from suppliers are fair and if necessary, negotiate on your behalf for better terms if appropriate.
We don't live in the UK, or anywhere near where want to get married. Can you still help?
Absolutely! I can plan a wedding anywhere, and I am used to working with couples in different time zones. With the use of Skype, Zoom and email, it's like we're all in the same place. I have a stellar team of suppliers I work with all over the country that can help make your day incredible, no matter where your wedding will be.
We've found some suppliers we love, will it be a problem to use them if you haven't worked with them before?
Not at all, you make all the decisions on your supplier team. While I have a network of brilliant and trusted suppliers that I can recommend based on budget, style and fit, they are purely recommendations. The decision about who you book is always yours, it's your wedding and I'm here to facilitate your decisions. I'm more than happy to work with new suppliers.
When should we book you?
For Full Planning & Partial Planning Services, as soon as you can. I want to make the planning process as stress-free as possible for you. Having me with you right from the beginning means I can guide you through the whole process, from selecting your venue to sourcing your suppliers and helping you avoid feelings of overwhelm. As I only work on a limited number of full plan weddings each year, it's best to book me early so you don't miss out.
For Wedding Management (on-the-day co-ordination) services, these are booked 6 months in advance of your wedding date; with work beginning 8 weeks before your wedding date.
If you feel that you don't want or need my services until you are further along in your planning, get in touch and we can discuss what you need help with.
Do you offer on-the-day co-ordination?
I do, this is called the Wedding Management service. More information can be found on the Wedding Services page.
Why does the Wedding Management service include planning hours?
For even the most organised of couples, there is normally 15 – 20 hours of my time that is spent on planning and admin ahead of your wedding day. I don't just show up on the day and co-ordinate everything – I collate all the information you provide me, into one comprehensive document that is used to manage your day. Planning ahead helps me identify any possible obstacles or challenges for your wedding, and allows me to put plans in place to ensure your wedding is as seamless as possible on the day.
Which service should we book?
There are 3 core service offerings that are tailored to your wedding requirements – Full Wedding Planning, Partial Wedding Planning and Wedding Management (On-the-Day Co-ordination). The best way to determine which service suits your needs best, is to book in a consultation call where we'll go through your requirements and from there I can identify which level of support you'd benefit from most.
How many meetings should we expect to have with you?
Our initial consultation will last for up to an hour, and will be by phone, Zoom or in person (where possible).
Depending on the level of service you are booking, the number of meetings and duration will be outlined in the proposal, but each client receives unlimited email and phone communication during office hours (with the exception of emergencies which will be dealt with as soon as possible). Weekend and evening calls and meetings can also be arranged.
How should we prepare for our initial consultation?
The purpose of the consultation is to learn more about you, your planning so far, your ideas and vision and it's an opportunity for you to ask any questions. We'll learn about each other which is important for two reasons, firstly so I can put together a detailed proposal that's bespoke to you and your wedding, and secondly so we can ensure we a good fit for each other.
During our consultation we'll run through a questionnaire that will provide me with all the key information about your wedding. To be as prepared as possible and to make the most of our time together, be prepared with the following information:
Do you have an idea of time of year and location for your wedding (if you've not already booked your date or venue)?
Do you have an idea of guest numbers?
What is your estimated wedding budget?
It's also useful to prepare any questions you want to ask me.
How much do you charge?
I have core services I offer – full planning, partial planning and wedding day management, but as each client and wedding is different, my fees vary depending on your requirements. My full planning service fee is based on a percentage of your wedding budget and my fees for the partial planning and on-the-day management services are fixed fees.
My fees will be outlined in your bespoke proposal that will be sent to you after our initial consultation. I am happy to negotiate a fixed fee instead of a percentage fee if that is preferred, we can discuss during the initial consultation.
What are your payment terms?
Payment terms are subject to how long we'll be working together and which service you choose. For the full planning and partial planning services, a 20% deposit is required to secure the date and my services. A further 2 payments are due part way through the process, with the remaining balance payable one month before your wedding.
For wedding management, a 50% deposit is required with the final balance due one month before your wedding.
Once the initial deposit has been paid, payments can be made monthly if that is preferred.
Will you be at my wedding?
Yes, absolutely. After months of planning I want to be there on the day to make sure everything comes together for you and to ensure that you can relax and enjoy your day. I will be there from the beginning to oversee set up and depending on logistics and guest numbers, my trusted assistant will be there also. We'll be unobtrusive, discreetly in the background, making sure everything is going to plan, and managing any issues that arise. We generally slip off once the last supplier has delivered their service, leaving you to enjoy the rest of the celebration.
Are you insured?
Yes, I have am fully insured with both Public Liability and Professional Indemnity insurance.
Is there anything you don't do?
While I'm here to support you for the duration of our time together, and on the day, there are a few things that I don't do, such as:
Wedding & personal related errands and ironing outfits

Ask a family member or one of your bridal party to do this

Moving of your flowers and your cake (unless discussed and agreed)

This is something best placed for your florist and cake designer respectively to undertake

Being a childminder

Leave this to the professionals who are qualified and security checked
I can't find the service I'm looking for, can you still help?
Absolutely, just get in touch and we can chat about what you're looking for. As my services are tailored to you and your wedding, there's flexibility around my service offerings.